Pattern - Wings of Hope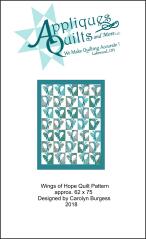 Wings of Hope - Pattern ONLY
Disclaimer: Normally patterns for our new designs are NOT available for a year; however,
we have decided to launch "Wings of Hope" to help spread awareness to any and all causes
that might be meaningful to our customers.
Appliques, Quilts and More supports awareness for local and national charities and will
donate $5.00 to OROC* for every "Wings of Hope" pattern purchased. (*)OROC - OutRun
Ovarian Cancer supports Ovarian Cancer research, awareness and education in Northeast Ohio.
Complete kits can be found under the category - (Kits- Quilts & Wall Hangings)
Quilt measures approx. 60" x 75"