Pattern - Nativity 3 Kings Riding Quilt Block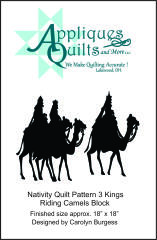 We are happy to announce that our Nativity Quilt is now available as a pattern.
Patterns can be purchased as individual blocks, for those who only want
to make a pillow, table runner, or small wall hanging.
It can also be purchased with all 9 patterns to make the quilt as shown.
Block - 18" square finished
Double Camel - 12"H x 9.8"W
Camel - 12"H x 7.5"W