PATTERN - Geometric Harmony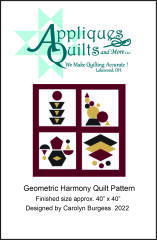 Geometric Harmony made it debut in the March 2022 Issue #45 Make Modern Magazine. My Geometric Harmony pattern is exclusively found in issue #45 of Make Modern magazine. There are at least 10+ patterns in each of the issues, so it's like getting a quilt pattern for $1.00.
The pattern templates have been divided into the four blocks. Because some of the shapes are repeated in other blocks, it was decided to prepare each block separately. Hopefully, this will make it easier to follow. The pattern templates will specify Block #1, Color A; Block #1, Color B and Block #1, Color C). This is repeated for Blocks 2 thru 4. This should help keep all the applique pieces for each Block together without having to search for a template, like the triangle, that appears in several of the blocks.
Finished size is approx. 40" x 40"