Towel Applique Kit - Scottie Laser Cut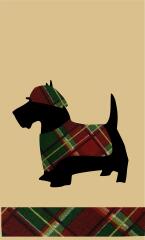 Kit comes with laser precut applique with fusible backing & 2" x 22" fabric strip.
Simply iron applique on to your towel or apron and secure with your favorite stitch.
AND ELIMINATE HOURS OF CUTTING.
CAN BE HAND OR MACHINE APPLIQUED
SCOTTIE comes with WHEAT towel INCLUDED.
KITS come with towel as shown. NO SUBSTITUTIONS.
Beret measures - 1.75"W x 1"H
Coat measures - 3.8"W x 2.8"H
Scottie measures - 6"W x 5.5"H
Binding measures - 2.5"W
Material is 100% cotton