Towel Applique Kit - Moose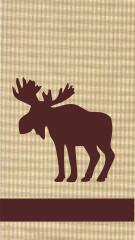 Kit comes with laser precut apple applique with fusible backing & rick rack.
Simply iron applique on to your towel or apron and secure with your favorite stitch.
AND ELIMINATE HOURS OF CUTTING.
CAN BE HAND OR MACHINE APPLIQUED
NOTE: Towel not included. Towels shown in picture were purchased from Heidi at
sew07hhd@gmail.com. you may contact her for information on colors & availability.
Horse measures - 4.8"W x 5"H
Strip measures 2" x 22"
Material is 100% cotton