Towel Applique Kit - Cow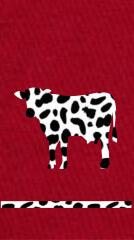 Kit comes with laser precut applique with fusible backing & 2" x 22" fabric strip.
Simply iron applique on to your towel or apron and secure with your favorite stitch.
AND ELIMINATE HOURS OF CUTTING.
CAN BE HAND OR MACHINE APPLIQUED
NOTE: Towel not included.
Cow measures - 6"W x 4.75"H
Rick Tack measures 5/8"W x 45"
Material is 100% cotton