Pattern - Snowman w/Jingle Bell Applique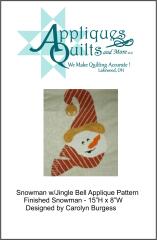 Applique Block Patterns are printed on paper as an alternative which allows you choose whether or not you would like to do 'raw edge' or 'needle turn' applique.
It also gives you the opportunity of selecting your own fabric, where as, kits come with fabric colors included.
Applique block is designed to fit a 16" block. You can make your blocks larger, if you wish.
Snowman Head measures - 5"H x .25"W
Jingle Bell Hat measures - 8"H x 4.8W
Scarf measures - 5.5"H x 7"W
Hatband measures - 3" x 6.8"
Jingle Bell measures - 2"
Finished Snowman measures - 15"H x 8"W