Pattern - Nativity (9 block set)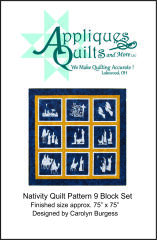 We are happy to announce that our Nativity quilt is now available as a pattern.
The entire Nativity pattern set contains all the patterns for all of the appliques in the quilt;
estimated fabric requirements and instructions on how to assemble the blocks, quilt and borders.
NOTE: If you purchase all 9 patterns separately, it would cost $90.
By buying the complete pattern kit with all the 9 patterns, quilt instructions,
etc. you save $40.
Block - 18" square finished
Finished quilt - approx. 75" x 75"
Inner border - 1.5"
Sashing - 3"
Outer Border - 5"
Binding - 2.5" cut strips