Pattern - Flag with Military Silhouettes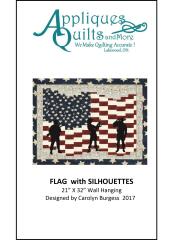 Pattern includes easy-to-follow instructions with diagrams or photos.

The applique designs are sized for raw edge applique. If you wish to needle turn,
you will have to adjust your fabric measurements by adding 1/8" to 1/4", or your
finished pieces will be smaller.
NOTE: Quilt/Wall Hanging can be made larger, if you wish; however, the
silhouette templates will be the size indicated under 'Features' below.
Soldier w/Rifle measures - 10"H x 5.25"W
Soldier w/Rifle over Shoulder measures - 10"H x 4.2"W
Woman Soldier measures - 10"H x 4.5"W
Finished Size is approx. 36" x 44"