Madonna & Child Appliqued Quilt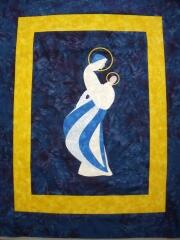 Display Quilt samples for sale - are finished samples that were on
display at quilt shows for the kits being sold, and have now been
retired from shows. Kits, however, are still available on the website.
Madonna & Child display sample quilt, is one of a kind with appliques
have been secured with straight top stitching around the edges.
Background fabric, borders and binding is a dark blue Moda batik. The
gold border fabric is Moda Marbles and the appliques are Fairy Frost
and other cotton fabrics.
There is only ONE sample available. Priced reduced from $100 to $75
Quilt measures approx. 24" x 30"