Letter - "X" Capital Laser Cut Appliques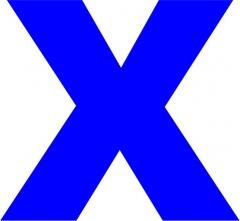 Color
Font Style
Alphabet letters are proportionate. If you are ordering Capital and Lowercase
Letters make certain to get the same size.
i.e. let's use the word Happy, the Medium Size Capital letter "H" measures 3"H,
but the lowercase letter "a" will only measure approx. 2.25"H and the "ppy" will
measure 3" just like the "H".
Therefore, you must purchase all the letters in the same size (small, medium,
large,etc.; otherwise if you order 3"H Capital letters and 2"lowercase letters
the "ppy" would be way out of proportion.
Each letter is sold separately.
NOTE: Heat'n'bond sewable backing is NOW available. It's now easier to choose
your appliques with fusible backing. Simply choose the size "WITH fusible".
OTHER COLORS, FONTS & SIZES AVAILABLE UPON REQUEST.
The ideas are endless------ Can be machine or hand appliqued.
Appliques are cut with a laser and are 100% accurate.
Small letter measures - 2"H
Medium letter measures - 3"H
LArge letter measures - 4"H
Extra Large letter measures - 5"H
Width size varies according to letter
Material is 100% cotton