KIT - Winter Memories Laser Cut Applique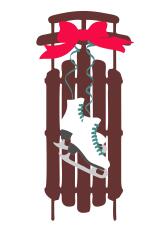 BLOCK comes with all appliques precut.
The kit was resized for Quilt Block Mania's winter theme block. Applique pieces are smaller than those in the Winter Memories Quilt Kit.
NOTE: Heat'n'bond sewable backing is NOW available. It's now easier to choose your appliques with fusible backing. Simply choose the size "WITH Fusible ".
The ideas are endless------ Can be machine or hand appliqued.
Appliques are cut with a laser and are 100% accurate.
Sled measures - 10.5"H x 4.75"W
Skates measures - 2.5"H x 2.75"W each
Bow measures - 4.75"W x 1.8"H