KIT - Wedding Laser Cut Appliques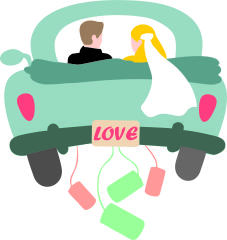 BLOCK comes with all appliques precut. The kit was created for those individuals who may not want to cut out all the pieces or those with physical issues, such as arthritis.
NOTE: Heat'n'bond sewable backing is NOW available. It's now easier to choose your appliques with fusible backing. Simply choose the size "WITH Fusible "
You can used ribbon or embroidery thread for the strings on the cans.
Appliques are cut with a laser and are 100% accurate.
The ideas are endless------ Can be machine or hand appliqued.
Car measures - 10.5"W x 7"H
Bumper measures - 10"W x 1.5"H
Convertible Top measures - 9"W x 1.3"H
Letters measure - .5"
Window measures - 5.5"W x 2.5"H
Finished applique measures - 10.5"W x11"H