KIT - Snowman w/Ski Hat Laser Cut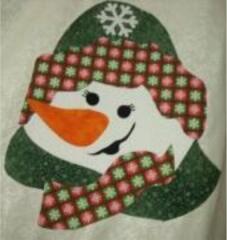 Color
---
Additional Images
Snowman with Ski Hat Quilt Block KIT with Pre-cut Fabric Die Cut Appliques.

KIT INCLUDES all of the appliques PRE-CUT you need to make this awesome Christmas block.
NOTE: Heat'n'bond sewable backing is NOW available. It's now easier to choose your
appliques with backing. Simply choose the size that says "WITH backing" .
The price has now been changed to include the cost of the backing
Background fabric not included.

NOTE: Don't want to make a huge quilt. Choose just a few of the blocks to use as table topper,
table runner or wall hanging.
THESE HAVE BEEN WITH A LASER AND ARE 100% ACCURATE
Quick & Easy; Save Time & Energy
Just Iron & Stitch using your favorite hand or machine stitch to secure.
AND ELIMINATE HOURS OF CUTTING.

Snowman Head measures - 5"H x 6.5"W
Ski Hat measures - 3.8"H x 6.75"W
Scarf piece #1 measures - 3"H x 7.5"W
Scarf piece #2 measures - 2.9"H x 4.5"W
Snowflake measures - 1.5"
Snowman Nose measures - 3"H x 1"W
Snowman's Eyes measures .5"
Finished Snowman w/Ski Hat measures - 9"H x 7.5"W
Material is 100% Cotton