KIT - Nativity Quilt Silhouettes ONLY - All 9 block sets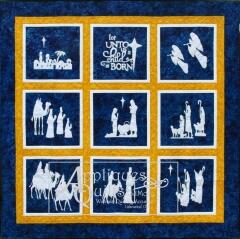 Nativity Quilt Silhouette Block Sets - Each block comes with a complete set of 12"H silhouettes for example. the 3 Wisemen & a Camel has 4 separate pieces; the Shepherds pointing at the star has 3 separate pieces.......

NOTE: there are several of the designs where silhouette is very thin, & I personally would not attempt to stitch them without a fusible backing. However, you could use a basting adhesive to hold them in place while stitching....but I have never used that type of product, so I am not sure how well it holds.
No additional fabric is provided. The background fabric was cut at 17.5" for the 12" silhouettes. The white inner border is cut 1.5"; the gold border is cut 3" and the outer border was cut at 5". binding at 2 1/2".
THESE HAVE BEEN CUT WITH A LASER AND ARE 100% ACCURATE.-----
Quick & Easy; Save Time & Energy---No Cutting; & No Sore Cramped Fingers

AND ELIMINATE HOURS OF CUTTING.-------CAN BE HAND OR MACHINE APPLIQUED
all with heat'n'bond sewable backing attached if desired.
SUPPLY LIST:
You will need to get fabric and batting large enough for a 75" x 75" quilt top. (according
to a quilt site on the internet that would be about 5yds of fabric backing and a queen size 90 x 108" package of batting. You could check with your quilt shop for a more accurate estimate.
This awesome Nativity quilt was designed & appliqued by Carolyn Burgess in 2016.
Background, & outer border fabric used was Moda Dark Batik-- Sashing is Moda Marbles Goldenrod -- Silhouettes are black or white kona cotton.
Quilting was done by Robin Hrabik of Candy Apple Quilt, North Ridgeville, Oh in Feb. 2016.
www.candyapplequilts.com.
NOTE: Don't want to make a huge quilt. Choose just a few of the blocks to use as wall
hanging or panel. Silhouettes are large enough to be used in banners for a church.
Finished quilt size approx. 73" x 73"
~~~~~~~~~~~~~~~~~~~~~~~~~~~~~~~~~~~
Bethelem Skyline w/star
For Unto Us a Child is Born
Angels, Set of 2
3 Wisemen & Camel
Manger, Mary & Joseph
Shepherds Kneeling, Set of 2
Wisemen Riding Camels
Mary on Donkey & Joseph Walking
Shepherds Pointing to Star