Kit - Mug Rug - Apple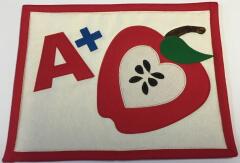 Mug Rug kit comes with everything you need - all PRECUT.
The background fabric, backing fabric & binding are precut & the applique
pieces are precut with heat'n'bond lite iron-on backing.
Simply iron the appliques to the background fabric. Do NOT use steam.
Machine or hand stitch using your favorite technique.
Sandwich all three layers together and stitch around the outer edge to secure.
Add binding.
It's that easy!
Finished size is 7" x 9"
Binding measures - 2 1/2"W
Material is 100% cotton