KIT - Graduation Owl Laser Cut Applique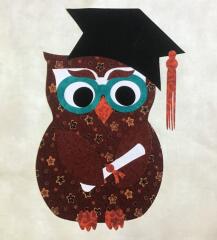 BLOCK comes with all appliques precut. Fabric colors are as shown in photo.
The kit was created for those individuals who wanted a more detailed applique block
NOTE: Graduation Cap & tassel can be done in school colors, if desired.
Email - appliquesquiltsandmore@hotmail.com with your choices.
NOTE: Heat'n'bond sewable backing is NOW available. It's now easier to choose your appliques with fusible backing. Simply choose the size "WITH Fusible ".
The ideas are endless------ Can be machine or hand appliqued.
Appliques are cut with a laser and are 100% accurate.
Owl measures - 6.0"W x 8.5"H
Cap measures - 6.25"W x 4"H
Wings measures - 3"H x 2"W
Material is 100% cotton