KIT - Dragon Laser Cut Appliques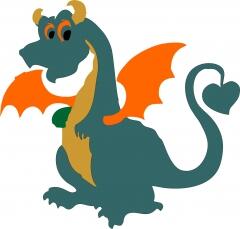 Dragon applique comes in moda marbles hunter green, orange and
gold fabric.
NOTE: Heat'n'bond sewable backing is NOW available. It's now
easier to choose your appliques with fusible backing. Simply choose the
size "WITH fusible".
The ideas are endless------ Can be machine or hand appliqued.
Appliques are cut with a laser and are 100% accurate.
NOTE: Color shades may seem lighter or darker than the actual fabric shown,
due to computer screen settings.
Dragon measures - 10"W x 9"H
Material is 100% cotton