KIT - Double Heart Appliques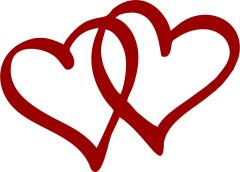 This applique kit was created for Quilt Block Mania's theme for February - Connections.
Since Valentine's Day is one of the most popular times of the year for wedding proposals, the symbol of two hearts connecting as one was the perfect choice.
Applique block is designed to fit a 12" finished block. You can make your blocks larger, if you wish.
Double Heart measures - 7"H x 10"W
Material is 100% cotton