KIT - 3 Hearts Laser Cut Applique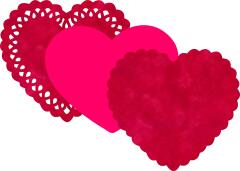 February is American Heart month, so this is our block. It would be great as a pillow, or a center for a larger quilt. There are 3 separate hearts.
The ideas are endless------ Can be machine or hand appliqued.
Appliques are cut with a laser and are 100% accurate.
Lacey Heart measures - 4"W x 3.75"H
Scalloped Heart measures - 4"W x 3.5"H
Heart measures - 4"W x 3.3"H
Material is 100% cotton