Christmas Snowman Laser Cut Appliques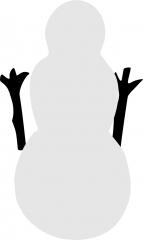 Color
---
Additional Images
Snowman comes with one snowman and 2 arms.
NOTE: Heat'n'bond sewable backing is NOW available. It's now easier to choose
your appliques with fusible backing. Simply choose the size "WITH fusible".
Add some "Winter Gear" items from the Doll Category and give the Snowman a 'new' look
or stand him next to a tree or fence
The ideas are endless------ Can be machine or hand appliqued.
Appliques are cut with a laser and are 100% accurate.
Snowman measures - 4"H x 2"W
Snowman measures - 5"H x 2.5"W
Snowman measures - 6"H x 3"W
Material is 100% cotton