Butterfly Set Laser Cut Appliques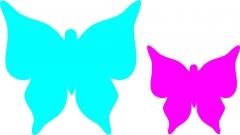 Color
The butterfly set comes in a set of (2), 1 Small butterfly & 1 Large butterfly.
NOTE: Heat'n'bond sewable backing is NOW available. It's now easier to choose your appliques with backing. Simply choose the size that says "WITH backing". The price has now been changed to include the cost of the backing.
The ideas are endless------ Can be machine or hand appliqued.
Appliques are cut with a laser and are 100% accurate.
Small Butterfly measures - 3"W x 2.9"H
Large Butterfly measures - 5"W x 4.7"W
Material is 100% cotton