Tall Tree #1 Silhouettes Die Cut Appliques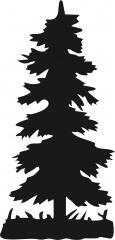 Color
---
Additional Images
Tall Tree #1 Silhouette Appliques comes in Black Kona Cotton
Tall Tree #1 Silhouette appliques comes as an individual piece.
These are the trees used in the "Bison at Sunset"; "Moose at Midnight" and "Moose in the Forest" Quilt Kits.
NOTE: Heat'n'bond sewable backing is NOW available. It's now easier to choose your
appliques with backing. Simply choose the size that says "WITH backing" .
The price has now been changed to include the cost of the backing
Can be hand or machine appliqued.
Appliques are cut with a laser and are 100% accurate
Tree #1 measures - 8"H x 3.8"W
Tree #1 measures - 9"H x 4.3"W
Tree #1 measures - 10" x 4.75"W
Material is 100% cotton