Kit - Nativity Scene Mini Quilt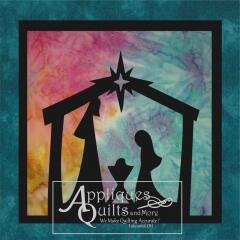 Nativity Scene Quilt Kit comes complete with precut silhouette with iron-on backing,
precut background fabric, precut inner & outer borders and backing.

Just iron & use your favorite stitch to secure.
The ideas are endless------ Can be machine or hand appliqued.
Appliques are cut with a laser and are 100% accurate.
Nativity Scene Silhouette measures - 9"H x 8.5"W
Finished quilt measures approx. 15" x 15"
Material is 100% cotton