KIT - Halloween Series - Lizzie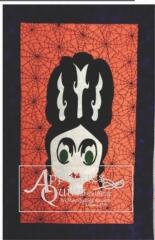 "Lizzie" - The Bride of Frankenstein's name was Elizabeth
KIT INCLUDES -
Directions
Precut Background fabric; Precut outer border strips and Precut Backing.
The applique pieces are PRE-CUT and come with heat'n'bond lite sewable backing.
Can easily be finished in a day or two.

ELIMINATES HOURS OF CUTTING. CAN BE HAND OR MACHINE APPLIQUED
THESE HAVE BEEN CUT WITH A LASER AND ARE 100% ACCURATE
Supply list - thread & batting
Optional supply list; scissors or rotary cutter for trimming. cutting mat &
telfon pressing sheet.
There are 10 different kits available in this Halloween Series: Witchie; Wolfie; Lizzie; Mr. Bones; DaCount & Frankie, Witch's Brew & NOW Boo-Regard, the Grim Reaper and the Scrawny Black Cat. Each kit sold separately.
Applique pieces are PRECUT with fusible backing.
Background Fabric measures -10.5"W x 17.5"H
2.0" precut borders
2.5" precut bindings
Finished size approx. 12.5" x 19.5"
Material is 100% cotton