KIT - Alphabet Quilt TOP Laser Cut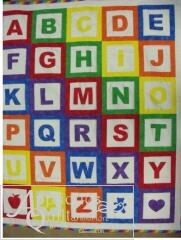 This kit is great for beginners, intermediate, and anyone who just doesn't seem to have
the time sew/ quilt anymore.
Alphabet Quilt TOP KIT comes with Pre-cut Fabric Appliques with fusible backing.
PRE-CUT; background fabric squares, PRE-CUT inner border strips; PRE-CUT outer border
strips, & PRE-CUT binding strips. all you have to do is sit down and sew it together.
Can easily be finished in a day or two.
Easy to follow directions are included; however, some basic sewing knowledge is helpful.
THESE HAVE BEEN CUT ON A MACHINE AND ARE 100% ACCURATE
You will receive everything you need to make this awesome quilt TOP -
Finished size is approx. 36" x 44".

ELIMINATES HOURS OF CUTTING. CAN BE HAND OR MACHINE APPLIQUED
Precut White Squares measure - 5.5"
Precut Inner Borders are 1.5" strips
Precut outer borders are 2" strips
Precut Binding Strips - 2.5"
Appliques approx. - 3"
Alphabet Letters - 3"H
Material is 100% cotton
Finished Size is approx. 36" x 44"
~~~~~~~~~~~~~~~~~~~
NEEDED SUPPLY LIST -
Backing - 1.5 yds
Batting - 1.5 yds