KIT - African Woman Leena Laser Cut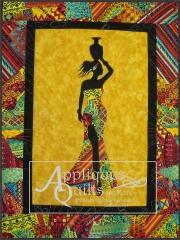 African Woman "Leena"- KIT with Pre-cut Fabric Laser Cut Applique silhouettes.
Leena means "Softness".
Everything is PRE-CUT; all you have to do is sit down and sew it together. Can easily be
finished in a day or two.
THESE HAVE BEEN CUT WITH A LASER AND ARE 100% ACCURATE
KIT INCLUDES -
Directions
Precut Background fabric; Precut inner border strips; Precut outer border strips
Precut Backing and the silhouette design pieces are PRE-CUT and come with
iron-on sewable backing.

ELIMINATES HOURS OF CUTTING. CAN BE HAND OR MACHINE APPLIQUED
Supply list - thread & batting
Optional supply list; scissors or rotary cutter for trimming. cutting mat &
telfon pressing sheet.
Body top measures - 8.4"H 3.5"W
Leg measures - 6.7"H x 1.6"W
Dress measures - 9.3"H x 5.3"W
Inner 1.5" precut borders
Outer 3.0" precut borders
Finished size approx. 18" x 24"
Material is 100% cotton