Hat Die Cut Appliques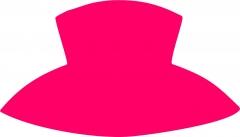 Color
Hat appliques come in a wide selection of fabrics -- florals, solids, tonal, polka dot & ginghams.
Hat appliques come in a pair of two.
Mix and match colors and fabric choices for a variety of patterns.
NOTE: Heat'n'bond sewable backing is NOW available.  It's now easier to choose your appliques with backing. Simply choose the size that says "WITH backing" .  the price has now been changed to include the cost of the backing
Would look adorable on a quilt, blanket, or wall hanging, pillow tops or pillow cases, bath towels, pj's, robes, burp cloths, totes, diaper bags, duffle bags, kids curtains, jeans, shorts, jackets, T-shirt, sweatshirt, vests, scarfs, kitchen towels, potholders, table runners, aprons, appliance covers,crafts--photo albums, lamp shades....
CHECK OUT THE 'IDEA CORNER' TO SEE HOW JO TRACY USED THESE APPLIQUES IN HER QUILT.
Hat measures - 4 1/2" W x 2 9/16" H
Material is 100% cotton