Halloween SPOOKY Letters Ravie Design Laser Cut Appliques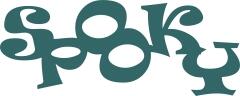 Color
SPOOKY letter appliques come in a variety of fabrics
SPOOKY letters are a ravie design.  Each letter is separate. 
You will receive 1-S, 2-O's; 1-K; 1-P and 1-Y.
NOTE: Heat'n'bond sewable backing is NOW available.  It's now easier to choose your 
appliques with backing. Simply choose the size that says "WITH backing" . 
tTe price has now been changed to include the cost of the backing
Would look adorable on a quilt, blanket, or wall hanging, 

pillow tops or pillow cases,  bath towels, 
kitchen towels, potholders, table runners, aprons, appliance covers, 

crafts--photo albums, lamp shades.....
The ideas are endless------ Can be machine or hand appliqued
Appliques are cut with a laser and are 100% accurate
Ravie Letters small measure - 3"H
Ravie Letters med. measure - 4"H
Ravie Letterslarge measure - 5"H
Material is 100% cotton