KIT - Pumpkin & Cornstalks Laser Cut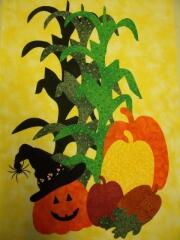 Color
Cornstalks & Pumpkins Quilt Block KIT with Pre-cut Fabric Die Cut Appliques.

THESE HAVE BEEN CUT ON A MACHINE AND ARE 100% ACCURATE

You will receive all of the appliques PRE-CUT you need to make this awesome
Cornstalks & Pumpkins block.
NOTE: Heat'n'bond sewable backing is NOW available. It's now easier to choose your
appliques with backing. Simply choose the size that says "WITH backing" .
The price has now been changed to include the cost of the backing
Background fabric not included.

KIT INCLUDES -
3 Cornstalks; 1 Large Pumpkin; 1 Medium Pumpkin; 2 Small Pumpkins;
1 Jack'o'Lantern; & 1 hat. (Background fabric NOT included)
NOTE: Block size used in photo was 18"H x 12"W;
Finished Cornstalk Block measures approx. 15"H x 11"W.
so will have to make your background fabric a min. of 18"H x 12"W,
but you can make it larger if you wish.


Quick & Easy; Save Time & Energy
No Cutting; & No Sore Cramped Fingers
Just Iron & Stitch using your favorite hand or machine stitch to secure.
AND ELIMINATE HOURS OF CUTTING.
CAN BE HAND OR MACHINE APPLIQUED
Cornstalks measure - 14"H x 6"W
Large Pumpkin measures - 6" x 4"
Medium Pumpkin measures - 5"H x 3.5"W
Small Pumpkins measure - 3.5"H x 2.5"W
Jack'o'Lantern measures - 3."H x 3.3"W
Hat measures - 3.8"H x 4.5"W
Finished Cornstalks measures - 15"H x 11W
Material is 100% Cotton