KIT - Cowboy Hat & Boots Laser Cut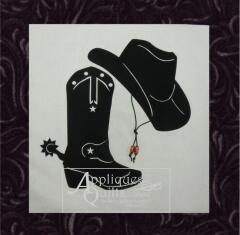 Cowboy Hat & Boots Quilt/Wallhanging KIT comes with Pre-cut Fabric Appliques with fusible backing.
This kit is great for beginners, intermediate, and anyone who just doesn't seem to have
the time sew/ quilt anymore.
KIT INCLUDES -
Directions
Precut Background fabric; Precut inner border strips; Precut outer border strips
Precut Backing and all silhouette designs are PRE-CUT and come with iron-on sewable backing.

ELIMINATES HOURS OF CUTTING. CAN BE HAND OR MACHINE APPLIQUED
Supply list - batting & thread
Optional supply list; scissors or rotary cutter for trimming. cutting mat & teflon pressing sheet.
REG. $35 SALE - $20 ONLY 1 AVAILABLE
Boots measure approx. 9"H x 7.5"W each
Hat measures - 6"H x 9"W
Precut 3" borders strips
Precut 2.5" binding strips
Cording & Beads are included
Material is 100% cotton
Finished size approx. 20" x 20"