KIT - Awareness Favorite Breed - Rescued Laser Cut Applique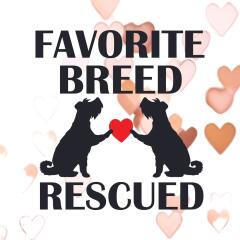 October is Adopt a Dog Month
October has many awareness causes. The most popular is Breast Cancer. And although that's important, I chose to make my applique block this month for "Adopt a Dog Month". Saving a dog from abuse or even worse, death, is a great cause. Our family has had a variety of dogs over the last 50 years, and all of them have been a rescue dog. They seem to know that you chose them out of all the others to be a special part of your family. And their love and devotion is everlasting.
Some of the quotes I found on the internet are so true, I thought I'd share a few:
"You can't change a dog's past, but you could rewrite his future."
"Dogs are not our whole life, but they make our life whole."
"My favorite Breed is - RESCUED." This one was my favorite, so I chose to make it my block. The pattern is FREE throughout the month of October, after which time it will be available for purchase. There is also a laser precut applique kit available NOW for a limited time.
Background fabric is not included. All applique pieces come with your choice of WITH fusible backing or without. Simply choose the size "WITH Fusible ".
The ideas are endless------ Can be machine or hand appliqued.
Appliques are cut with a laser and are 100% accurate.
Dog measures - 5"H x 4.5"W
Heart measures - 1.5"H x 1.5"W
Letters measure - 1.75"
Material is 100% cotton