Fireman Crest Symbol Laser Cut Appliques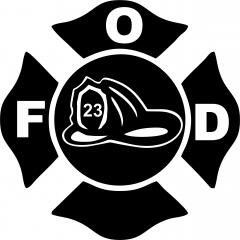 Color
Silhouette comes with several pieces to create the crest.
NOTE: Heat'n'bond sewable backing is NOW available. It's now easier to choose
your letters with backing. Simply choose the size letter that says "WITH backing" .
The price has now been changed to include the cost of the backing.
Can be machine or hand appliqued.
Appliques are cut with a laser and are 100% accurate.
NOTE: The letters and numbers used in the original photo were custom made for a customer in Ohio for her husband. They will be cut separately. If you wish to have specific letters and/or numbers on your silhouettes, please let me know via email at the time you place your order.

Fireman - 8"H 8"W
Fireman - 9"H x 9"W
Fireman - 10"H x 9"W
Material is 100% cotton