Sewing Expo, IX Center, Cleveland, OH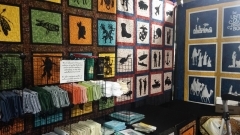 June 18, 2020 - June 20, 2020
for QUILT SHOW DATES & TIMES - APRIL SHOW HAS BEEN POSTPONED & RESCHEDULED
FOR OCT. 8, 9 & 10.
Sewing. Quilting. Needle Arts. Original Sewing & Quilt Expo knows all about the care and feeding of your creative lives. The Expo is a place to find the latest and coolest techniques and products, and learn new skills with cutting-edge education. It's three days of classes and workshops, stage shows, runway fashion shows, how-to demos, incredible display galleries, fabulous shopping and more...
ADMISSION: $15/day order online & save www.sewingexpo.com
HOURS - Thurs & Fri. 10M to 6PM Sat. 10AM to 5PM
Display Gallery
Stroll through aisles of quilts, including contemporary, traditional, art and modern works by artists from
across

the country. Join guided quilt walks through selected galleries, hosted by quilting personalities whose work is featured in the collections.
Dusk to Dawn
SAQA – Studio Art Quilt Associates
HERstory Quilts: A Celebration of Strong Women
Susanne Miller Jones, Curator
OURstory Quilts: Human Rights Stories in Fabric
Susanne Miller Jones, Curator
Log Cabin

Quilt Challenge
Presented by Quilt Expo
Paradigm Quilters: INSPIRED
Best of North Texas Quilt Festival
In conjunction with Original Sewing & Quilt Expo
Presidential Quilts
Curated by Sue Reich
Cosplay Display
North Coast Needlers
High On Dolls
Expo Stage Presentations
Runway Fashion Shows
Make It Take Projects
Sewing Next Generation