Shoe Die Cut Appliques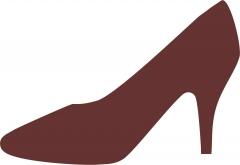 Color
---
Additional Images
Shoe appliques come in various florals, tonals, polka dots, ginghams & solid fabrics.
Shoe appliques come in a pair of two; one facing right & one facing left.
NOTE: Heat'n'bond sewable backing is NOW available.  It's now easier to choose your appliques with backing. Simply choose the size that says "WITH backing" .  the price has now been changed to include the cost of the backing
CHECK OUT THE 'IDEA CORNER' TO SEE HOW JO TRACY USED THESE APPLIQUES IN HER QUILT.
Appliques are cut on a die cutting machine and are 100% accurate.
Mix and match colors and fabric choices for a variety of patterns If a fabric or color that I carry, is not pictured for this item and you are interested in it, please email Carolyn at
appliquesquiltsandmore@hotmail.com
Would look adorable on a quilt, blanket, or wall hanging,
The ideas are endless------ Can be machine or hand appliqued.
Shoe measures - 4 1/2" W x 3" H
Material is 100% cotton