Acorn & Leaf Set Die Cut Appliques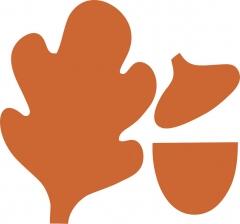 Color
 Acorn & Leaf appliques come in a variety of fabrics -- solids, tonals, florals, prints, polka dots
& ginghams.
 Acorn & Leaf Appliques come with 1 oak leaf & 1 acorn top & 1 acorn bottom.
Mix and match colors and fabric choices for a variety of patterns  If a fabric or color
that I carry, is not pictured for this item and you are interested in it, please email
at appliquesquiltsandmore@hotmail.com
NOTE: Heat'n'bond sewable backing is NOW available.  It's now easier to
choose your appliques with backing. Simply choose the size that says
"WITH backing" .  The price has now been changed to include the cost
of the backing.
The ideas are endless------ Can be machine or hand appliqued
Appliques are with a laser and are 100% accurate
Oak Leaf measures - 2.8"w x 4"h --- Acorn Top 2"w x 1.4"h -- Acorn Bottom 1." w x 1.5"h
Oak Leaf measures - 3.5"w x 5"h --- Acorn Top 2.6"w x 1.7"h -- Acorn Bottom 1.9" w x 2"h
Oak Leaf measures - 4.3"w x 6"h --- Acorn Top 3"w x 2"h -- Acorn Bottom 2.5" w x 2.25"h
Material is 100% cotton